Plagiarius Awarding 2022
The Prize winners of the Plagiarius Competition 2022
The jury met on January 14 + 15, 2022 (corona-conform) and awarded three main prizes, one spe-cial award and four peer awards / distinctions.

All photos show: Left / Above: Original(s) - Right/Below: Plagiarism(s) / Counterfeit(s)
Exception: Hyena Prize: middle original / around: plagiarisms

A photo series of all 8 Prize Winners incl. background information you will find here.

1. Prize - Cutlery Set "KLIKK" (3 pieces) - sold as part of a promotion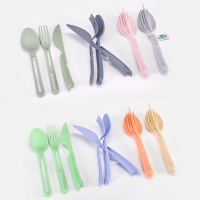 Above Originals: koziol »ideas for friends GmbH, Erbach, Germany
Below Plagiarisms: Distribution: Are Media Pty Ltd., Sydney NSW, Australia
Manufacture: PR China
Compact. Clever. Sustainable. What seems so simple at first glance is extremely complex in its fine construction. The design-awarded KLIKK reusable cutlery set impresses with its intelligent plug-in connection and a sustainable material and manufacturing concept. Australia's 'leading premium' publisher of women's magazines used a very inferior plagiarism of the cutlery as part of a loyalty campaign. As much as the visual appearance was designed to match exactly, there was little emphasis on durability. The plagiarism is made of unsuitable plastic, which deforms after a very short time and thus makes the cutlery completely unusable after a few uses. Even the low price - approximately one third of the original price - is no consolation.


Download Image (300 dpi)
2. Prize - Pressure Gauge (use: in chemical and process engineering processes)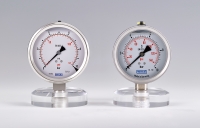 Left Original: WIKA Alexander Wiegand SE & Co. KG, Klingenberg, Germany
Right Counterfeit: Distribution: Abdullah Corporation, Dhaka, Bangladesh
(Pressure) measuring instruments are essential in mechanical engineering, automation, the food and pharmaceutical industries as well as in chemical and process engineering processes. WIKA products stand for precision, quality and safety; even at extreme temperatures or in highly aggressive media. The inferior counterfeits from Southeast Asia are neither reliably precise nor robust against shocks. This counterfeiter not only abuses the globally protected trademark "WIKA", he deceives buyers with "Made in Germany" about the true origin. CT examinations by Klostermann 3D Messtechnik reveal that the measuring spring of the counterfeit is too small and that there are no fine adjustment possibilities, so that the declared measuring accuracy - class 1.0 according to EN837-1 - is not achieved. The potential danger of falsely regulated pressure is high, as are the follow-up costs. Therefore, WIKA always takes decisive action against counterfeiters.


Download Image (300 dpi)
3. Prize - Double-row "INA" axial angular contact ball bearing (precision bearing for screw drives)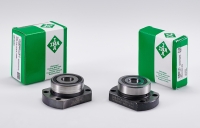 Left Original: Schaeffler Technologies AG & Co. KG, Herzogenaurach, Germany
Right Counterfeit: GIANT Bearing Co., Ltd., Jiangsu, PR China
GIANT shamelessly copies and forges everything: from products, packaging and the brand names of renowned manufacturers such as Schaeffler, to dealer certificates, Data Matrix codes and bank confirmations. Everything, except the product quality. Precision and reliability play an enormous role in products that are used in machine tools, among other things. 3D Scanning by Klostermann 3D Messtechnik shows significant deviations in dimensional accuracy and manufacturing quality, with unpredictable consequences depending on the installation situation. The damage lies not only with Schaeffler, but also with dealers who are liable for the inferior quality, and with customers who have to endure the consequences for man and machine. Schaeffler therefore protects and defends its intellectual property very consistently worldwide.


Download Image (300 dpi)
Four "Distinctions" (equal in rank) and one special award were chosen:

Special Award Hyena Prize - Control Cabinet Key "KNIPEX TwinKey"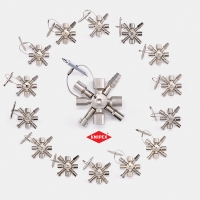 Middle Original: KNIPEX-Werk C. Gustav Putsch KG, Wuppertal, Germany
Around Plagiarisms: Various online vendors, mainly from the PR China (14 examples out of 9,500+)
Distribution via, among others: Amazon.de / Amazon.fr / Amazon.com/USA; Alibaba.com; Taobao.com/China; 1688.com/China; banggood.com
9,500 ! illegal offers of the TwinKey have been deleted by KNIPEX on online platforms in the last three years. The special feature of the original: The ingenious, patent-protected solution, in which two multifunctional keys with a total of ten profiles are combined very compactly and in a star-shaped arrangement by means of a magnet, but can be easily separated for use. Various court decisions confirm the 'competitive distinctiveness' of the original, i.e. imitators act unfairly and deceive buyers about the origin. The extremely low prices of the counterfeits are reflected in cheap materials and poor workmanship, the magnet often does not work or comes loose from the attachment.


Download Image (300 dpi)
Distinction - "GERMENS" Artist's-Shirt "ALNUSO"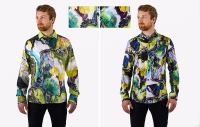 Left Original: GERMENS artfashion - Markeking GmbH, Chemnitz, Germany
Right Plagiarism: Distribution: Gabano UG (limited liability), Melle, Germany
Manufacturer: Gabano Fashion Design Agency / Gabano Group, Istanbul, Turkey
GERMENS shirts stand for high-quality fabrics and edgy designs created by artists. In this - and many other Gabano plagiarisms - the colours and the art motifs that characterise the overall impression have been copied almost 1:1, only the arrangement and tiny details have been changed or the view rotated. Gabano's German website is in English and contains no imprint. The address given on Facebook is also not accessible. Trendy buzzword buttons like "design process" and "sustainable production" lead nowhere. A German online retailer offered the plagiarism for one seventh of the original. He signed a cease-and-desist declaration.

Further Information



Download Image (300 dpi)
Distinction - Cutlery Set "KLIKK POCKET" for on the go (3 pieces)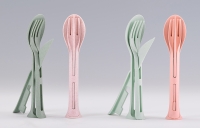 Left Originals: koziol »ideas for friends GmbH, Erbach, Germany
Right Plagiarisms: Distribution via: "de.shein.com", Fastfashion Online Shop
Operator SHEIN upon discovery of plagiarism: ZoeTop Business Co., Ltd., Hong Kong
The functional reusable cutlery KLIKK POCKET is ideal for on the go and meets the spirit of the times: compact, robust and 100% recyclable. Koziol has registered EU-wide design protection for the design-awarded cutlery - as for all its products. Cheap-Fastfashion distributor SHEIN recruited customers via Google Adwords and social media and offered the visually identical but unstable plagiarism in 4 colours - for less than a third of the original price. On the packaging of the plagiarism, 5 certificate labels are shown, which are supposed to testify to sustainability, quality and safety. Whether the testing institutes have ever tested the material and the cheap product is questionable.


Download Image (300 dpi)
Distinction - Volkswagen wheel trim with "VW" logo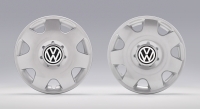 Left Original: Volkswagen AG, Wolfsburg, Germany
Right Counterfeit: Manufacturer: Murama S.r.l., Turin, Italy
Distribution: various online vendors (Germany / EU), via eBay.de and Amazon.de
"Product does not originate them but adaptable". This is unabashedly engraved on every fake "VW" wheel cap. Optionally, Murama offers other car brands. Price: 25% of the original. This is reflected
in cheap materials and lack of stability. VW protects its intellectual property worldwide and consistently enforces its rights. A German online vendor has signed a cease-and-desist declaration and submitted. The Italian manufacturer refused a cease-and-desist declaration. Despite obvious trademark infringement, (protracted) court proceedings are therefore pending against Murama in Italy.


Download Image (300 dpi)
Distinction - CanadianCat foodbar "Cat Diner", with separate cat grass bowl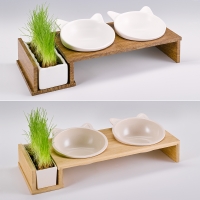 Above Original: Wagner Pet Products Group, Geilenkirchen, Germany
Below Plagiarism: Distribution: German discounter and a German supplier / theme promoter
The original: Smart (protected) design, well thought-out ergonomics, high-quality impression. Idea, shapes, colours and arrangement of the individual elements were adopted almost 1:1. The cheap price, a fifth of the original, quickly becomes apparent in the materials and fine construction. In the plagiarism, the feeding bowls are not made of shape- and heat-resistant ceramic, but of cheap plastic. The bowls do not sit stably in the recess, i.e. they slide back and forth uncontrollably and loudly when eating. Due to the clear design violation and in the interest of a quick and unbureaucratic settlement, the supplier / theme promoter of the German discounter was willing to settle the case amicably out of court.


Download Image (300 dpi)
Copyright Photos:
Aktion Plagiarius e.V.
The Jury of the Plagiarius 2022
Each year the jury is put together individually with specialists from diverse industries. The following persons formed this years' jury:



more