Plagiarius - Exhibitions and Lectures
Are you planning a trade fair appearance, a seminar on Intellectual Property Rights, an innovation day, a China-seminar, an open day, a design exhibition etc. ?
We would like to support you with our service offer:
Lectures (product- and brand piracy)
Informative (facts + background information, current trends, defensive measures)
Practical/ hands-on (diverse examples of affected companies and their experiences)
Concise, brought forward in a living and qualified manner
German / English
Exhibition "Original vs. Counterfeit"
Individual and flexibel (scope / duration)
Practical/ hands-on (examples from all industries – in each case the original product and its plagiarism in direct comparison)
Vivid, focused and readily understandable
Eye-Catcher for any kind of event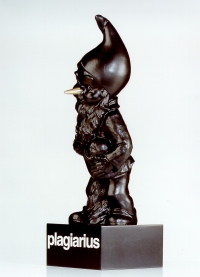 Please contact us and let us know your planned activities and ideas. We look forward to joint projects with you!
And here you will find information about recent exhibitions and lectures.